Friday, September 15, 2006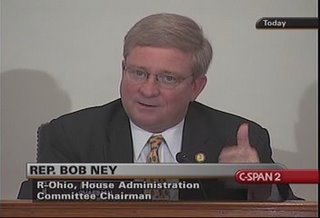 Back in January,
we profiled Rep. Bob Ney
as one of those folks who would likely get caught up in the Abramoff web of scandal.
Then, in August,
we reported on his decision to not seek re-election
in the House of Representatives. And while House Majority Leader John Boehner asked him to step aside, there was consideration given to the fact that, in giving up his seat, he'd be able to at least make some money on K Street.
Well, today the shit hits the fan, and it's reported that
Rep. Ney will plead guilty to at least one criminal charge in the corruption scandal, and may even resign his seat sooner than November
. This coming after months of Ney continually denying any wrongdoing whatsoever.
Delay, Ney, Conrad Burns... the list continues to grow and grow. How many more indictments will it take to firm in the American mind the notion of the hypocritical "ethics" practiced by the Republican party? Headed by the President who promised to return ethics, accountability, and integrity to Washington?
Ready for November?
Tags: Ney, Ohio, Congress, scandal, Abramoff
Posted by FleshPresser at 12:45 AM /


JollyRoger posted at 1:22 AM
Ney is a first-class scumbag, as are most of his compatriots in crime (known in some circles as "Ohio Republicans.")

There seems little doubt that Ney's buddies Steve LaCorruptette ans John Gainer are equally corrupt, but you can't get rid of the dirtbags from Ohio unless you have some US Marshals handy to cart them off.
---
« Home